The Lion-tailed Macaque (Macaca silenus) is an Old World monkey that is endemic to the Western Ghats of South India.
Physical Characteristics
Edit
The hair of the Lion-tailed Macaque is dark-brown or black. Its outstanding characteristic is the silver-white mane which surrounds the head from the cheeks down to its chin, which gives this monkey its German name of "Beard Ape". The hairless face is black colored. With a head-to-tail length of 45 to 60 cm and a weight of 3 to 10 kg, it ranks among the smaller macaques. The tail is medium length with a length of approximately 25 cm and is a black tuft at the end, similar to a lion's tail. The males tail-tuft is more developed than that of the females.
Gestation is approximately six months. The young are nursed for one year. Sexual maturity is reached at four years for females, six years for males. The life expectancy in the wild is approximately 20 years, while in captivity up to 30 years.
The Lion-tailed Macaque is a diurnal rain forest dweller. It is a good climber and spends a majority of its life in the upper canopy of tropical moist evergreen forests. Unlike other macaques, it avoids humans. In group behavior, it is much like other macaques: it lives in hierarchical groups of usually ten to twenty animals, which consist of few males and many females. It is a territorial animal, defending its area first with loud cries towards the invading troops. If this proves fruitless, it brawls aggressively.
Lion-tailed Macaque behaviour is characterized by typical patterns such as arboreal living, selectively feeding on a large variety of fruit trees, large inter-individual spaces while foraging, and time budgets with high proportion of time devoted to exploration and feeding.[4] The Lion-tailed Macaque primarily eat indigenous fruits, leaves, buds, insects and small vertebrates in virgin forest but can adapt to rapid environmental change in areas of massive selective logging through behavioural modifications and broadening of food choices to include fruits, seeds, shoots, pith, flower, cone, mesocarp, and other parts of many non-indigenous and pioneer plants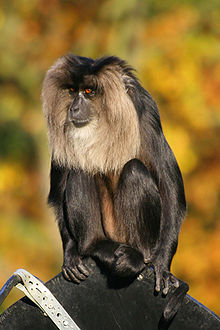 &nbsp