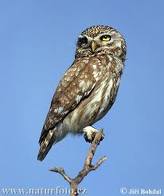 &nbsp

The Little Owl (Athene noctua) is a bird which is resident in much of the temperate and warmer parts of Europ, Asia east to Korea, and north Africa. It is not native to Great Britain, but was first introduced in 1842, and is now naturalised there. It was also successfully introduced to the South Island of New Zealand in the early 20th century.
This species is a part of the larger grouping of owls known as typical owls, Strigidae, which contains most species of owl. The other grouping is the barn owls, Tytonidae.
Description
Edit
_______________________________________________________________________________________
The Little Owl is a small owl, 23-27.5 cm in length. The adult Little Owl of the most widespread form, the nominate A. n. noctua, is white-speckled brown above, and brown-streaked white below. It has a large head, long legs, and yellow eyes, and its white "eyebrows" give it a stern expression. This species has a bounding flight like a woodpecker. Juveniles are duller, and lack the adult's white crown spots. The call is a querulous kee-ik.
There is a pale grey-brown Middle Eastern type known as Syrian Little Owl A. n. lilith. Other forms include another pale race, the north African A. n. desertae, and three intermediate subspecies, A. n. indigena of southeast Europe and Asia Minor, A. n. glaux in north Africa and southwest Asia, and A. n. bactriana of central Asia. A recent paper in the ornithological journal Dutch Birding (vol. 31: 35-37, 2009) has advocated splitting the southeastern races as a separate species Lilith's Owl Athene glaux (with subspecies A. g. glaux, A. g. indigena, and A. g. lilith).